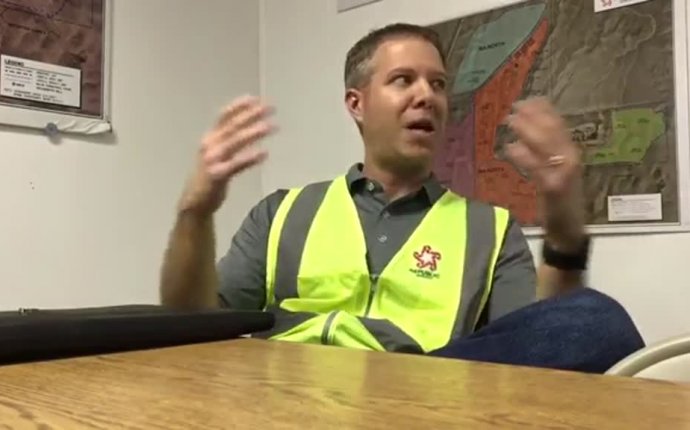 Garbage Services Las Vegas
Waste-management company Republic Services of Southern Nevada says no other local haulers are capable of managing residential trash and recycling pickup in the city of Las Vegas.
But locally owned waste-management company Western Elite says if the city would just give the company the chance to compete, it could provide the same service and the same prices without a long-term franchise agreement.
Republic Services is currently the only waste-management company allowed to handle residential trash in the city of Las Vegas — and has been since at least 1985. Four years before the company's current exclusive franchise agreement is set to expire, Republic is negotiating with the city for an additional 15-year contract extension.
The City Council is slated to introduce an ordinance Wednesday that will lay the foundation for a contract extension with Republic.
With such long contract agreements that get re-negotiated and extended behind closed doors, Western Elite Vice President Scott Seastrand said he sees this window as his only opportunity to persuade city officials to put the contract out for bid.
"We only have this teeny, tiny window in time to change the methods that we do things as a city, " Seastrand said.
EVEN FOOTING
Bob Coyle, a consultant to Republic Services and a former area president of the company, said negotiations are underway with the city before the contract expires because Las Vegas doesn't want to wait until 2021 to implement a single-stream recycling program. With the single-stream program, residents don't have to sort their paper from their plastic, aluminum and glass. Single-stream service entails once-a-week trash pickup, once-a-week recycling pickup, and bulky-item pickup once every other week. Las Vegas is the last municipality in Southern Nevada with recycling sorting bins, twice-a-week trash pickup and every-other-week recycling pickup.
"It is going to cost us $50 million to put the program into the city of Las Vegas, " Coyle said. "It's 350, 000 carts, roughly it's 75 trash trucks that (run on) compressed natural gas … we can't afford to invest $50 million with only four years left on the program without a huge price increase (or a contract extension)."
Seastrand said the amount it costs to provide single-stream to the city puts any would-be competitor on even footing with Republic, since any provider would have to make the same investment.
"I believe there are shorter financing options rather than have that length of contract with the city, " he said.
Seastrand said he would be interested in a five to 10-year contract with the city.
Tim Oudman, market vice president with Republic Services, said long-term franchise agreements help the company enhance its service and keep rates low for customers.
"These predictable revenues, frankly, incentivize us to invest back in the community. We've invested more than $500 million in the infrastructure in the community here in Southern Nevada, " Oudman said.
DOES SIZE MATTER?
A Jan. 24 study by Arizona State University found Republic's total economic impact in Nevada in 2015 was $230 million.
"We end up with a very unique infrastructure, one that's unmatched in the valley, " Oudman said.
Republic has facilities and subsidiaries in 10 cities and towns in Nevada, operates a fleet of more than 430 collection trucks — including 153 trucks powered by compressed natural gas — operates a natural gas fueling station, a recycling center, and two landfills including the Apex landfill that has over 2, 200 acres.
Seastrand said Western Elite has a very strong philanthropic commitment to the community despite not having a franchise agreement. He joked that Western Elite is a landfill that thinks of itself as a ranch — a camel is one of the first things people see when entering the landfill located 60 miles north of Las Vegas on Highway 93; the company purchased the animal for the sole purpose of providing a nativity scene for their free annual Christmas event. Over 8, 000 people took a train ride with Santa to visit the "North Pole" this past Christmas season. Boy Scouts frequently camp and play in a lake at "the ranch" during the warmer months as well.
Republic's infrastructure is larger than Western Elite's, Seastrand said, but it doesn't take away from the latter's capacity to do the job in Las Vegas, and to possibly do it in more creative and innovative ways.
Source: www.reviewjournal.com