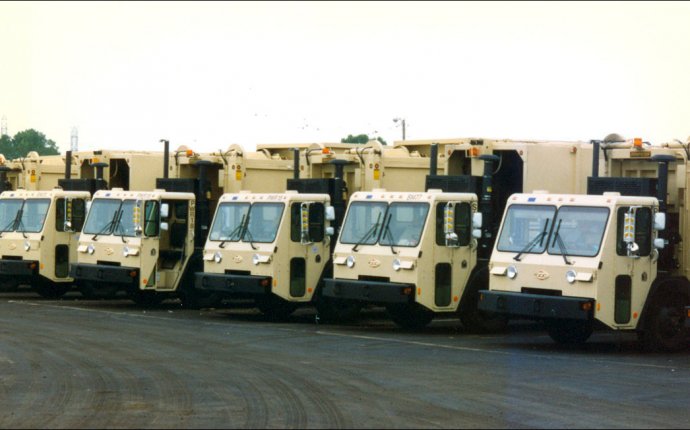 Garbage truck pay rates
It is a hallmark of modern times that instead of dumping our garbage wherever we see fit – and spreading disease – we have garbage collectors pick up the trash and take it away from towns and cities to more remote waste-management facilities. Garbage collectors fall into two categories: the driver of the garbage truck and the helper, or "ground man, " who picks up the garbage cans and recyclables. The job can be physically demanding for helpers, since they pick up many cans of garbage each day in rain, snow, sleet and the summer heat. Garbage collectors also have to keep records of their garbage pickups, use hand signals to communicate with the helper or driver and walk a great deal in neighborhoods where residences are close together.
The Bureau of Labor Statistics predicts that employment in this industry will increase 7 percent, adding 9, 400 new jobs by 2024. The main drivers of this growth include a rise in population, individual income and more people choosing to recycle.
Salary
According to the BLS, garbage collectors earned a median salary of $33, 800 in 2015. The highest-paid 10 percent of garbage collectors made $58, 790, and the lowest-paid made $19, 860. The highest-paying metropolitan areas for these workers are Mount Vernon, Washington; Oakland, California; and New York City.
75th Percentile: $45, 060
Median: $33, 800
25th Percentile: $24, 990
How much do Garbage Collectors make in your city?
See current salary offers for jobs in this field
See Full Salary Details »
Training
If you're a helper, the amount of time required for training varies from a few days to a month. If you're a truck driver, you will need a commercial driver's license. The trucks garbage collectors operate a range from big Dumpster trucks to sideloader trucks, and drivers must know how to operate garbage-compressing equipment. Training for both drivers and helpers happens on the job and is led by more experienced workers.
Job Satisfaction
Average Americans work well into their 60s, so workers might as well have a job that's enjoyable and a career that's fulfilling. A job with a low stress level, good work-life balance and solid prospects to improve, get promoted and earn a higher salary would make many employees happy. Here's how this job's satisfaction is rated in terms of upward mobility, stress level and flexibility.
Upward Mobility: Average
Opportunities for advancements and salary
Stress Level: Above Average
Work environment and complexities of the job's responsibilities
Flexibility: Average
Alternative working schedule and work life balance
Advice From Real Garbage Collectors »
Source: money.usnews.com